Kid's Face Painting Services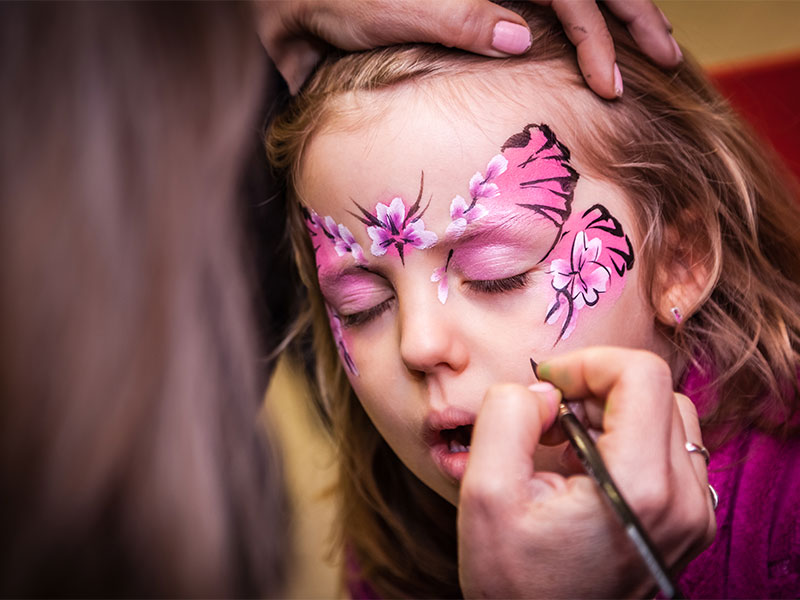 WOW!  The word that says it all.  We love seeing the excitement and pure joy on our kiddos' faces once they have transformed into a work of art!  Oh, Fer Cute! Entertainment has perfected the art of professional face painting and glitter art.
Suitable for ages 2 and up, face painting can be a fantastic addition to a children's party or occasion. There are few things more fun than watching children transform into their favorite characters, be that superheroes, animals, or the queen of their very own kingdom. The world of imagination knows no bounds.   We use the highest quality theatrical makeup (suitable for sensitive skin) and cosmetic glitters, we create individual face paints to suit every customer and event. Our designs are sparkly, bold, beautiful, quirky, and original.
With extremely happy customers across the state of Minnesota, face painting is what put our name on the map.
Types of Events:
Community Festivals
State & County Fairs
City Carnivals & Parades
Trade Shows
Corporate Events
Picnic & Outdoor Entertainment
All-Night Parties & Senior Lock-Ins
Celebration of Life/ Funerals
Senior & Nursing Homes
Celebrations
Birthday Parties
Mitzvah Celebrations
Girl Scout & Cub Scout Activities and Banquets
Weddings
Birthday Parties
Look at our testimonials, videos, photographs, and more.   Find us, follow us, and tag us on Facebook and Instagram.
Face and Body Painting is fun for all ages.  Do you have a less than kid-friendly event coming up you would like to find entertainment for?  Learn more about Adult Face Painting for Halloween and holiday parties, Mardi Gras, festivals, Costume Parties, Sporting events, and more.  Is face painting not your thing?  Check out our Glitter Bling Bar and Glitter Tattoos.
Contact us today to discuss your upcoming event.